The University of Okayama, founded in 1949 on the foundations of a school founded in 1870, currently welcomes 13,024 students, including 1,237 doctoral students. Relations between the University of Strasbourg and Okayama University have already been strengthened by previous delegation visits and scientific and institutional exchanges.
Strengthening established relationships
The Okayama University delegation visited the IMS (Strasbourg Institute for drug discovery & development) as part of a program entitled "Launch the UNISTRA-IMS/OkaDai TECH-TRANSFER joint initiative". This visit is part of a privileged partnership established between IMS and Okayama University.
The IMS, one of the Interdisciplinary Thematic Institutes (ITIs) of the University of Strasbourg, has already worked in collaboration with the University of Okayama on several research projects and has hosted cross-visits of researchers and teacher-researchers.
The Japanese delegation, led by Prof. Hirofumi Makino, president of Okayama University, was received on February 6 and 7, 2023 in Strasbourg.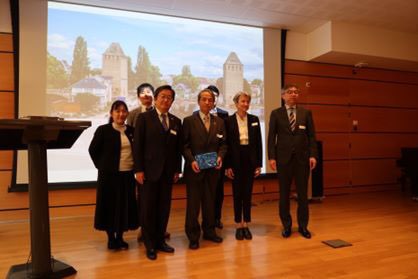 The visit program
The visit program included:
a scientific meeting with interventions in the form of workshops,
visits to the IMS laboratories (allowing exchanges with researchers and students)
institutional meetings with :
Mr. Michel Deneken, President of Unistra, the Vice President of Unistra, the heads of the ITI cell, representative(s) of SATT Conectus, of the SEMIA incubator and others…
Authorities linked to the French Administration: Hiroyuki UCHIDA, Consul General of Japan in Strasbourg (Europe Tower, Place des Halles), surrounded by Kazuhiko SAIGO (Professor), Director of the Strasbourg Liaison Office of the Japan Society for the Promotion of Science (JSPS), Yoichi NAKATANI (Unistra professor – Chairman of the "Japan-Unistra Group"), Ms Marie-Claire LETT (Unistra professor emeritus), Ms Michèle FORTE (MCF), Director of the France-Japan University House.
meetings with start-ups
exchanges with the international relations departments of Unistra and Okayama University